"You Owe Me" is a web application I made.
It allows people to manage their debts and loans with their co-workers.
It requires an IIS server configured with windows authentication, and .NET Framework 3.5 installed on the server.
Functionalities:
User management:
First time the user access to the web application, he is inserted in the system, but every user can modify the display name and the mail address.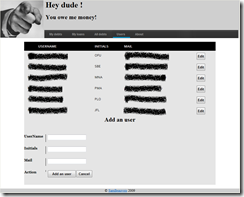 My Debts:
User can add a debt, or say that he has refunded the lender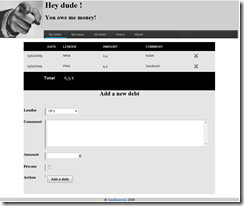 My loans:
User can add a loan, or say that the borrower has refunded him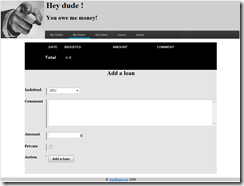 All debts:
An overview of all the current debts in the system (public debts only)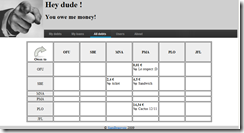 How to get this application?
This application is available for free on codeplex : http://yom.codeplex.com
Technologies
To build this application, I used :
Microsoft .NET Framework 3.5
ASP.NET, C# Code
Subsonic
ELMAH