Yesterday I received a visual studio 2010 Ultimate edition from work.
I've already test the  express edition when it was in beta phase, but it's not the same …
So, let's install it !
I install it on a Fujitsu Siemens laptop with 4 GB Ram and a Intel Core 2 Duo processor (2,53 GHz) running  Windows 7 64 bit Ultimate edition.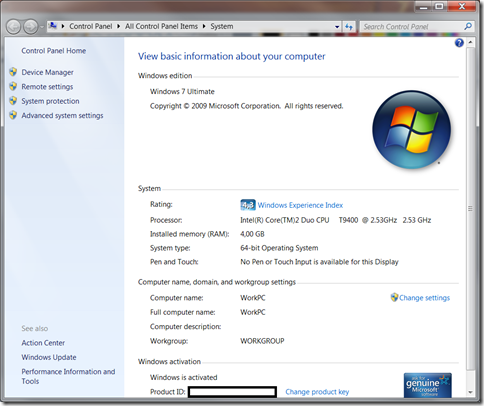 Launch the auto run program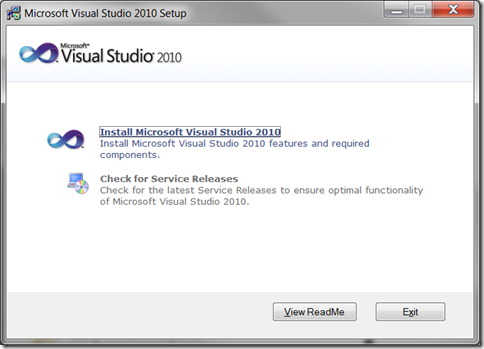 Loading screen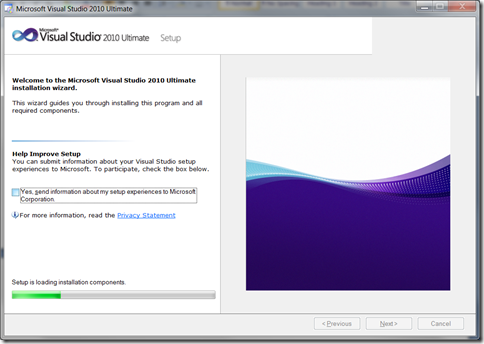 Click Next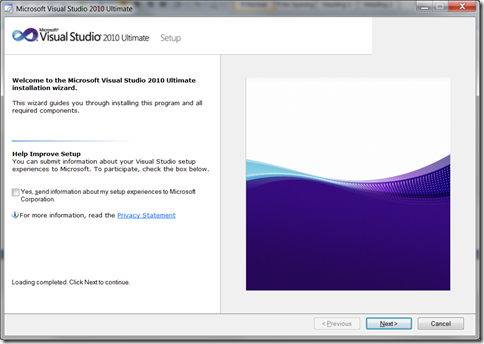 Read and accept the license terms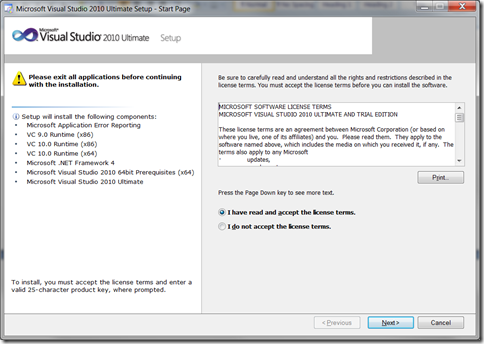 Choose your installation mode : Full installation (takes more than 6 GB) or Custom installation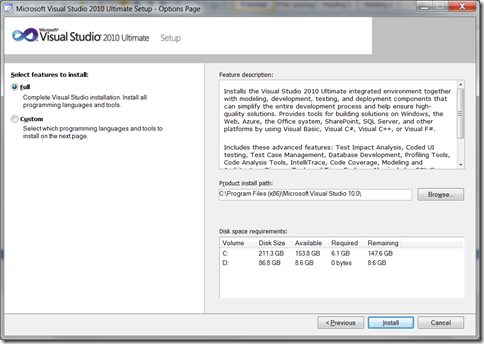 I choose Custom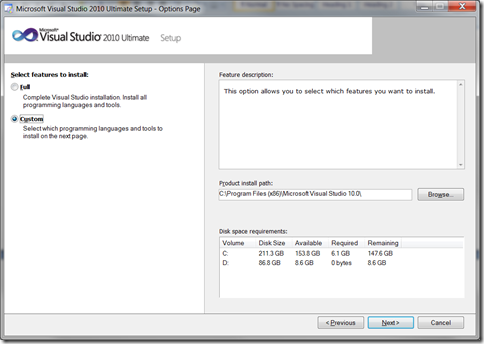 Select the features you want :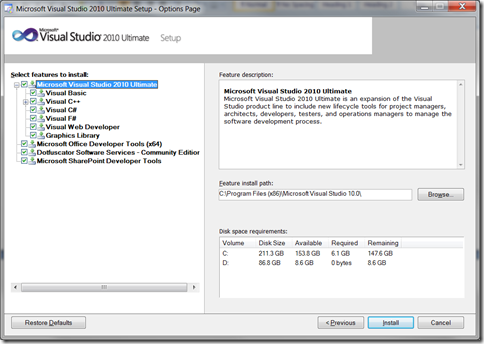 (notice that "Microsoft SharePoint Developer Tools" are integrated)
I just don't want Dotfuscator community to be installed, so I uncheck  it
I keep the rest because I want to test some features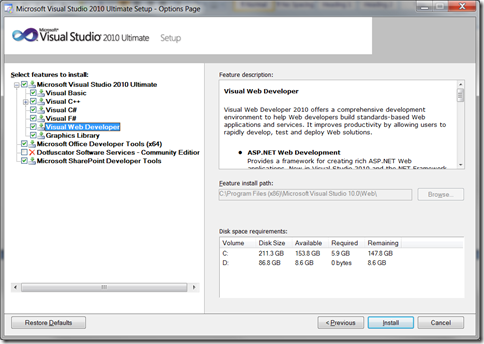 Click Install
Installation running :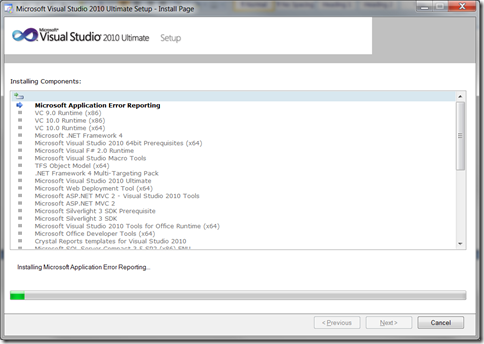 After less than 10 minutes, the installation asked me to restart my computer: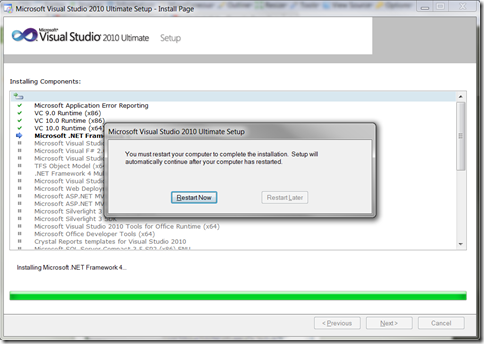 I click "Restart Now"
When restarting, a loading form is showing

Then the setup continue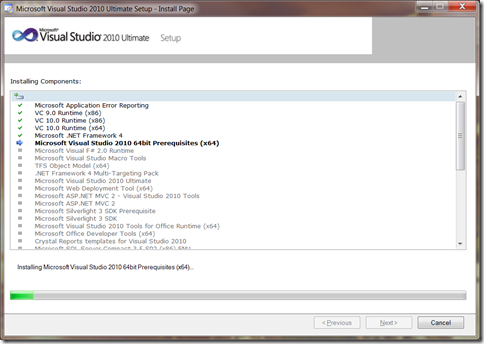 After about 45 minutes, the setup is finished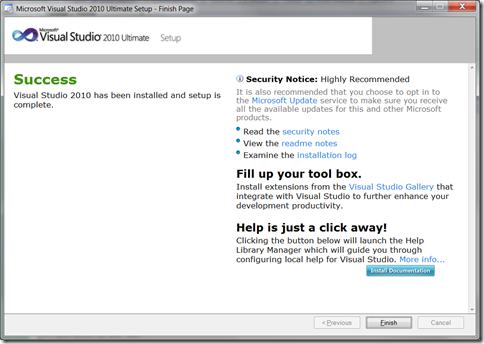 You can choose to install the documentation, but I choose to click on the "Finish" button.
The installation windows appears :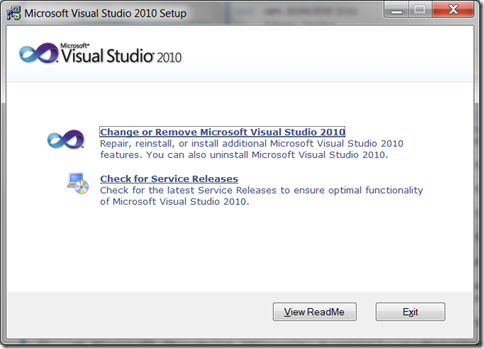 I Click Exit
Visual Studio 2010 is now installed
The installation takes me about one hour, and no problem occurred.
Now I can launch the product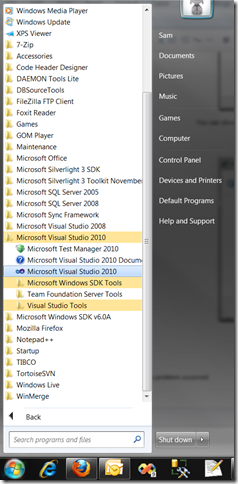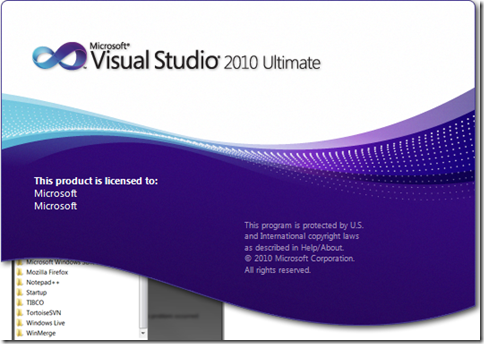 I choose my default environment settings (I used to choose Visual C# Development settings so I pick this one).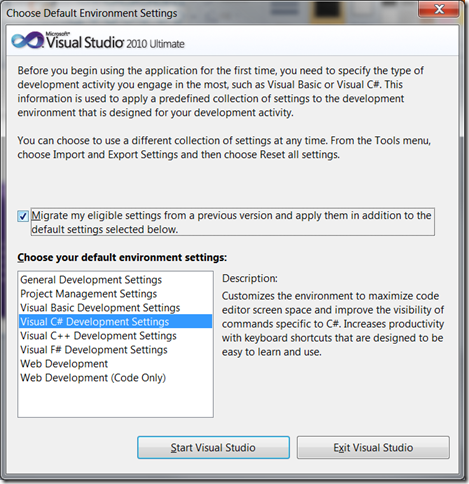 I Click on "Start Visual Studio"
First time loading form

Visual studio is up and running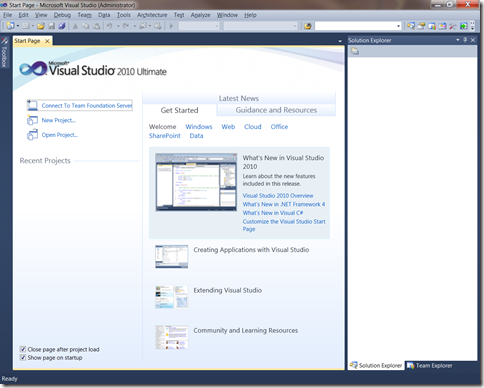 Help and documentation are on the start page:
A What's new section is available on the start page :
Some other links are available :
Creating application with Visual Studio
Extending Visual Studio
Community and Learning Resources
Some resources for Windows, Web, Cloud, Office,SharePoint and Data development are accessible too.
Next step : migration of a Visual studio 2008 solution !
Incoming search terms:
Choose Default Environment Settings
first developed Fujitsu Siemens laptops
first use of visual studio installing
ideal settings for visual studio 2010 on first use